August 19, 2017
First P-Day (Preparation Day)
August 19, 2017
On Wednesday we sang Bring the World His Truth and instead of singing 'we will be the Lord's Missionaries,' we all sang 'we are now the Lord's Missionaries' and it was amazing.
Anyway my companion is super awesome! He does these things called Tabatas which are intense exercises for 20 seconds then rest for 10, 8 sets of that. I find it very similar to Sprint 8 that Dad loves me to do. So this morning we did all of Sprint 8! It was muy dificil but I loved it. I regained my strength after breakfast. We also had exercise time yesterday and it was straight after dinner but I really pushed myself at basketball, running laps, and biking.
We taught a practice investigator in Spanish only and it was rough, so I was super motivated to speak as much Spanish in my every day language as possible. I was feeling kind of down and then I got a huge jump in memorizing the missionary purpose in Espanol, so I felt a lot better. In Spanish the Objectivo es "Invitar a las personal a viner a Christ al ayudarlas a que receben el Evengelio restorado mediante la fe en Jesucristo y Su expiacio`n, arrepentimiento.  We are learning the other half today.
The Spirit is crazily strong here. There is hardly an instant without it. We got what my companion and I call BLAT's which is short for Belt Loop ATtachments! And one of our belt loop attachments is a deck of flashcards. I got 3 sets of 100 flashcards, I can use 2 on each so 600 words on a key ring! But I have filled 50 cards so far, but when I am done catching up on the flashcards, I will probably fill 120. Something that was super interesting is Elder Romero y Elder Urie (my companion) have in common is that we all listen to Porter Robinson and Madeon. I think Tanner would find that interesting. They both love Flume, who I have heard their songs on Pandora quite a bit, but it was so cool talking about something that not many people have in common. Pranav would get along with these Elders because I think they listen to the music that he does as well! My companion is the Senior companion for these first tres semanas because he has a name closer to A in the alphabet. So the last three weeks will be my turn. The other Elders in our Dorm are absolutely hilarious, they are always having fun and having a good time. I am constantly getting more motivated to learn the language and I love it here.
I'll mention again, the food here is really good, to name a few of the meals: Biscuits and Gravy, BBQ Hamburger, Pizza on Fridays, and a really good cheesecake as one of the sides. So they are really feeding us well here.
My teacher's name is Brother Manwarring and he has the most beautiful handwriting on a whiteboard. All in caps, but he does draw his y's backwards. It's funny. Oh if we don't know a word, we yell out 'Chocolate`!' It is one of the highlights of my day! For a couple hours, we get taught by Sister Blau, she is super good at doing hand motions as she talks so we can understand better what she is saying.
Sometimes, the days feel long and others they feel like an hour, the feeling of time is very different here and I like it; it makes it fun.
Elder Romero and Elder Butz (Our roommates) wanted to know what to call our room, so he got all of our names and the first two letters, so UR, BU, RO, WI. So he reorganized the letters into BUURRIWO. So we call the group of us the Burrito. I also told my joke about O Que verses Okay to my roommates and they loved it!
I love this work and want to do as much as I can.
If you want to write me (please write me), send letters to the Mission Office in the Provo MTC.
Elder Hunter Wilhelm
Ecuador Guayaquil North Mission
Provo Missionary Training Center
2005 North 900 East
Provo, UT 84602-1793
Love,
Elder Wilhelm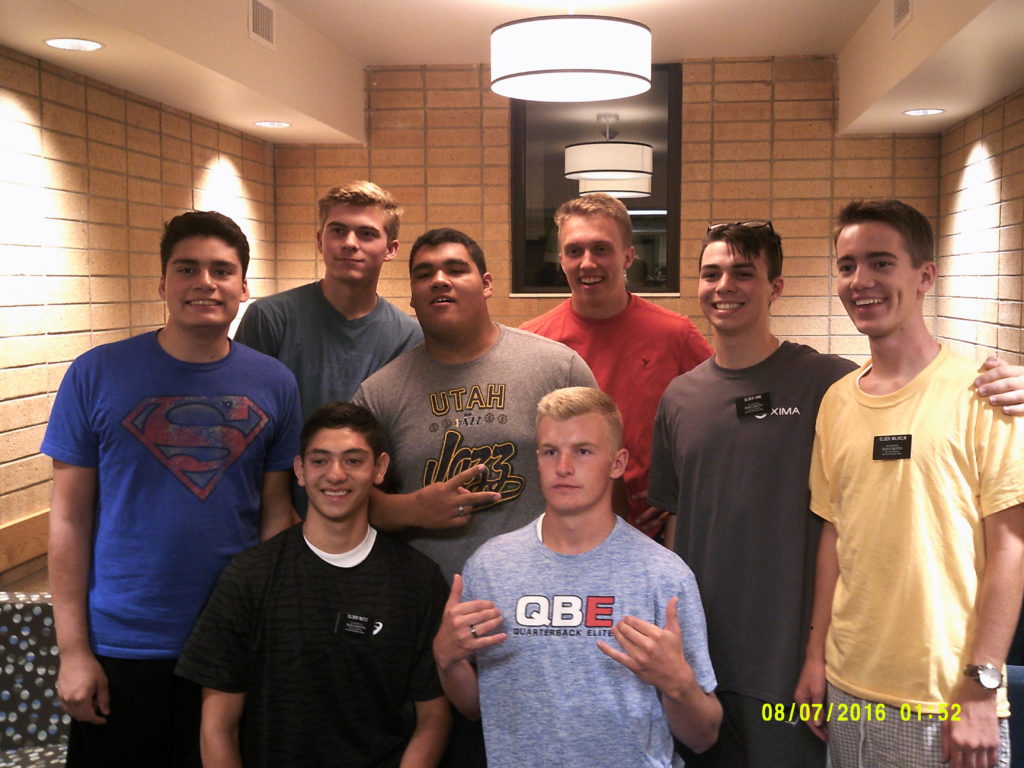 Mis Hermanos