September 2, 2017
3rd week at the MTC (or CCM – Centro de Capatación Misional)
September 2, 2017
Helloooo!
The amount of crazy coincidences that Elder Urie and I have! I met this Elder named Elder Seth Smith. I was talking with him and he said he grew up in St. Johns until he was 8 years old. He recognized my last name and I asked him if he knew Christian Wilhelm (my cousin)! He said that Christian was his best friend in St. Johns and he would hang out with Spencer Wilhelm as well. He told me about how he got the scar on his lip, it was from one of the dogs in St. Johns, (I think Christian's, I forgot since we talked on Monday). He came down on a slide and the dog came up to him and but some of his lip off. He had to get it fixed by a procedure that involved skin grafting I think. But Elder Smith is super cool. He played games as a partner I think for a guy who has a YouTube channel of 7 million subscribers. That's so cool! I got a picture with him. I think it might be cool for Christian to see a picture of Elder Smith after 10 or so years.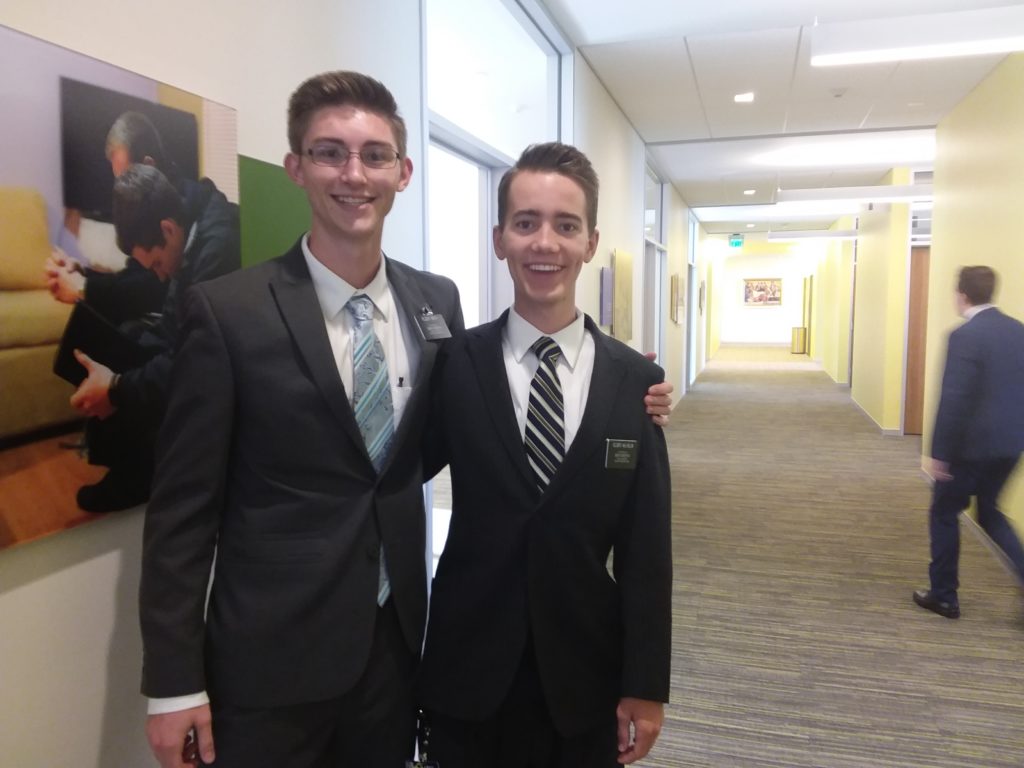 Since Wednesday, a sickness has been going around our building named R7. I got sick, but it is not bad, just a little annoying. But it hope everyone gets better. It's crazy how quickly stuff spreads around. The room next to us acts like our room is under quarantine, and for good reason. But I did not get it the worst, most definitely.
This week, one of our teachers switched the desks around so that way we are all sitting only with our own companions. I found it kind of annoying, but I am dealing. But Hermano Manwaring is absolutely hilarious. Context Mala=bad, peor=worst. One of his jokes went along the lines of 'things went from Guatemala to Guatepeor!'
One of the Elders, Elder Butz, in our room keeps calling everything buckets. So if someone messes something up he's like "Ha bucket" Now we say it in spanish, which is Balde. It never gets old.
Normally Elders in the MTC gain weight and stuff but I literally have not gained anything. I think it's because I love running here and doing another thing my dad does as well which is Jump Rope. Apparently we are not allowed any external equipment but they have some jump ropes here. We can use the equipment out in el campo but not here in the CCM.
It's crazy how far I have come here at the CCM. The amount of Spanish I can now speak is astounding. However, at the same time I memorized too many vocabulary words and I am still working on getting more comfortable at conjugating at will. But I am working on it. The practice materials here are super helpful. I love reflexives, but I need to master the basics first :}
A couple Elders, Elder Shaw and Elder McConkie are leaving for Argentina CCM this Monday. Elder Shaw's Birthday is on 9/11 so we celebrated it on 9/1 because he's leaving so soon. We had a birthday cake and sang happy birthday. I am going to miss them because of tradition of singing the Star Spangled banner horribly. Each time it is totally different. We also sing Never gonna Hit those notes as well. Elder Newsome was supposed to leave to a different CCM as well but he had to get a surgery on his teeth or something strange. He's still recovering.
Here's some described pictures so you know who I am talking of.​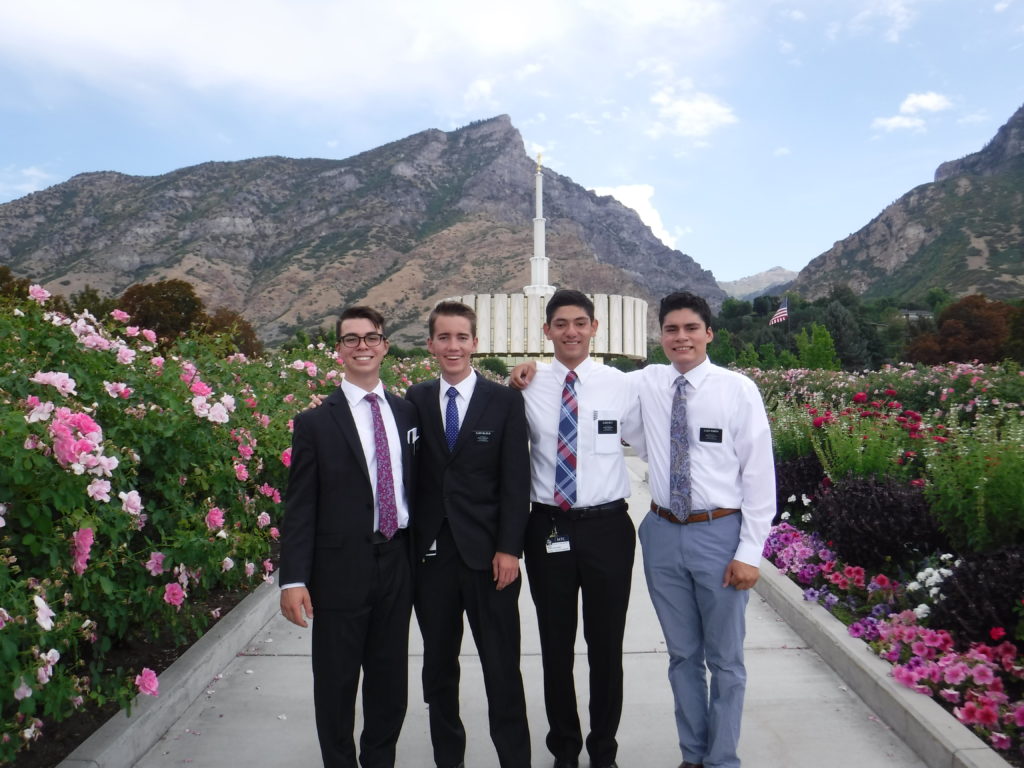 ​Elder Urie, Elder Me, Elder Butz, and Elder Romero
​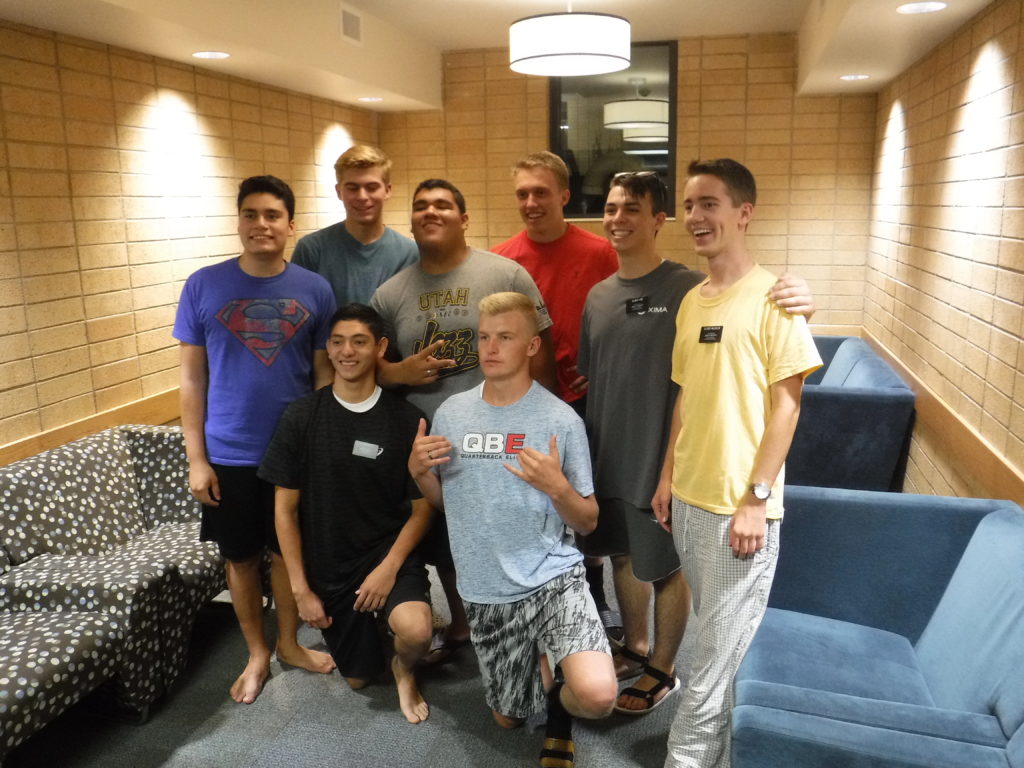 ​Front 4: Elder Romero, Elder Butz, Elder Shaw, y yo
Back 4: Elder Newsome, Elder Brown, Elder McConkie, y Elder Urie
Thank you for your wonderful eyes read this.
Sincerely Elder Wilhelm.